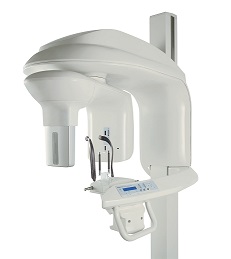 We perform dental and occlusal radiographs on site. Both our facilities are equipped with radiovisiography, allowing precise evaluation of digital images at high magnification.
3D DIGITAL TOMOGRAPHY OF TEETH
We offer our patients a revolutionary solution in dental diagnostics. The Kodak 9000 3D imaging system makes it possible to analyse anatomical three-dimensional images directly in the office (tomography) and also allows for a quick and complete overview of the condition of the dentition with the highest reproducible quality (digital pantomogram).
One of the many advantages of the system is the ability to image fragmented images at high resolution. This allows the finest details to be seen, making it ideal for most dental applications, even those as demanding as endodontics or periodontics. Thanks to 3D imaging, we are able to show the patient even more clearly what the treatment concerns and where a possible lesion is located and what it looks like, even before treatment measures are taken. This often helps in understanding the problem concerning the patient and obtaining a better understanding with the doctor.
Our equipment is designed to reduce the radiation dose absorbed by the patient during the examination as much as possible. The average delivered dose for a single 3D examination performed with the Kodak 9000 3D system is one to three days of background radiation – that is, the exposure each of us receives from natural sources. This represents ten to thirty times less dose than the competing systems.
Thanks to the online connection between our clinics, images and CT scans from the patient database are available at both of our facilities – at the clinic at Zwycięzców 28 immediately and at the clinic at Garwolińska 16 the day after the examination.